Logging In
Once you've finished with the initial setup, you'll be presented with a pretty empty looking Staff.Wiki. For the cloud edition you can get to your Staff.Wiki at any time using the URL http://account-name.Staff.Wiki, where account-name is the name of your account. This is the web site address you can give your staff also. When other staff members connect, they'll be asked to login to the site: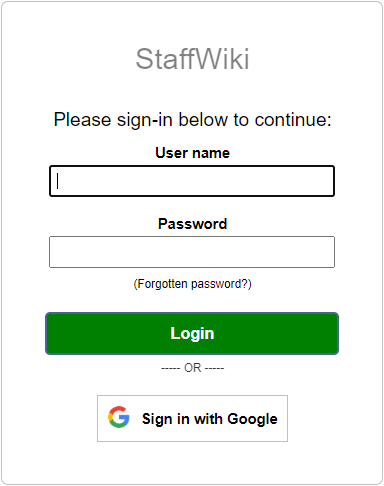 Every staff member must have a login account defined and setup prior to logging in, as discussed in Setting Up Users. This will define what exactly they can access and what abilities they have in the system, such as adding new wiki pages.
Users are able, and recommended, to change their password using the Forgotten password? link underneath the password field after their username and password is first given to them by the admin or their user manager.

Single Sign-On
Additionally, Staff.Wiki features single sign-on to allow you or your staff to login to your site using an existing authentication service such as Google. This is typically more secure than traditional methods of username/password logins.
The benefits of using single sign-on for you or your staff users are:
Less likely to have accounts compromised via phishing, keylogging, or various malware and hacking methods
Ability to utilize two-factor authentication which requires secondary verification on top of username & password
Not having to remember additional usernames/passwords
Automatic user login based on the devices with single sign-on they already currently have in use
Single sign-on is only as secure as the device or system it is used on, so be aware there are security caveats that you and your staff users should take note of:
Users need to make sure their authentication service username & password is not accessible by others
Single sign-on passwords are strong enough to not easily be guessed or have two-factor authentication enabled
Users need to ensure their devices & device passwords are secured
If the user account is often used on a device shared by multiple users, it is advised to not use this feature or use the browser's incognito or private mode prior to sign on
Prior to use of single sign-on by the individual user, their Staff.Wiki site user account email address must match the single sign-on email address used in order for this feature to link and initialize.
Below is a current list of single sign-on authentication services Staff.Wiki can utilize.
Google
If you or your users have a Google account, they are able to utilize Google single sign-on. Simply click on Sign in with Google underneath the Login button to access this feature.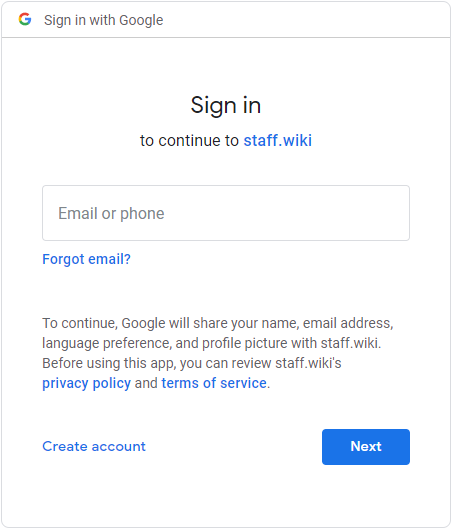 Input your Gmail or Google account email address and then click Next to login.
After the initial Google single sign-on usage, you or your staff will automatically be logged into your organization's Staff.Wiki site whenever it is accessed from the same device and/or browser.

Be aware: signing out of your Staff.Wiki site will log you out of the site but not from your Google single sign-on. You will automatically be logged back in upon returning to the site.
Gmail accounts or any existing Google product accounts are automatically set up with a Google account. If you wish to use a non Gmail account for use with Google single sign-on, such as your company's email address domain, that information can be found here.
Logging In - Staff.Wiki Server, Version 1.5.5.3212
[ Client.Wiki, Professional ]
Up Since 10/23/2020 2:58:01 PM