Policy Exemptions
While policies are intended to be followed at all times, there will likely be times when exemptions are required for specific situations. To cater to this, Staff.Wiki lets you request what is called a "Policy Exemption" authorization. This is a form you fill out, specifying the policy you want exemption from, the reason for the exemption and the date period you require it for. You will also specify the manager who will approve the request.
You can invoke the form from the policy page itself, in the actions menu dropdown you will see an option "Request Policy Exemption":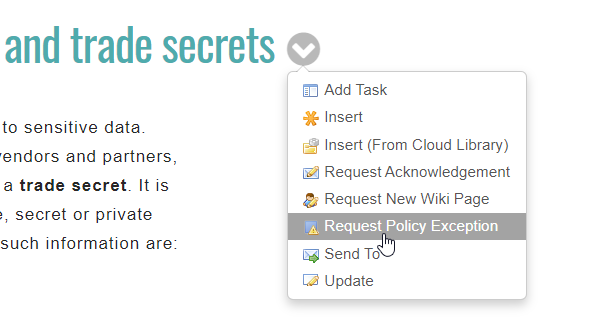 This will bring up the following form, with the policy pre-selected:

This form will create a ticket, and send the ticket to the manager for review. They can then view the ticket and click either approve or request from within the comment.
If the request is granted, the ticket can be used as evidence should anyone raise the issue of possible violation.
To allow other staff members to see the ticket, if they do not already have permission to view it, go to the ticket and then click on What's Next / Add Participants, select the user and check "Send Ticket Now". They will then receive an email with a link to the ticket where they can see the request, approval and any other comments that were made.
Managers can also see a list of all exemptions granted to a policy by clicking on the Explore link on a specific policy, then looking at the Policy Exemptions tab underneath the data-view of the policy.
Policy Exemptions - Staff.Wiki Server, Version 1.5.5.3212
[ Client.Wiki, Professional ]
Up Since 10/23/2020 2:58:01 PM