Incident and Hazard Reports
An Incident Report is a record of a policy violation, accident or other type of event that needs to be recorded for investigation, analysis and remedial or disciplinary action. A hazard report is a record of a potential for an incident to occur, and often implies that something can be done to remedy that risk.
Easily accessible and efficient incident and hazard reporting and management can be an important aspect of enforcing the policies and procedures in your organization, and establishing a safe and secure work environment.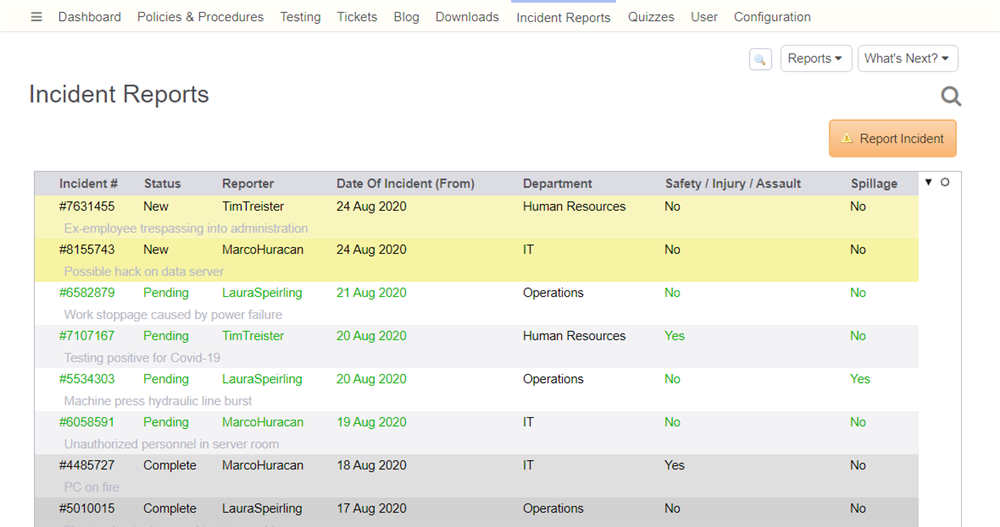 The Incident Report can be made by users either on a specific policy or procedure page, or independently of that by using the button on the Incidents Reports tab.

Note: The Incident Report functionality is on by default, but can be disabled on the Configuration tab by the system administrator if the functionality is not needed.
Because of the potential sensitivity of incident reports, Staff.Wiki has special features to ensure that such reports are secured. Users can only see those incident reports that were either raised by them, or involved them in some manner. For example an incident report is assigned to a specific user in the department for investigation or analysis, and will appear to them only once it is assigned.
Staff.Wiki provides the ability to record and manage these incidents and hazards, including the ability to invite others (such as witnesses) to provide additional information or remedial action suggestions.
The life cycle of an incident report goes through four stages:
New - staff creates incident or hazard report
Pending - assignee gathers info & investigates
Complete - assignee concludes & determines actions to be taken
Closed - incident or hazard is resolved
In this section we'll run through the typical processes involved in entering and managing an incident or hazard report.