The Webchat / Ticket System
The Ticket System is used to manage any questions that arise about policies, procedures or other articles. Every conversation started through a web chat will create a ticket so it can be tracked. It can also be used to track investigations, or any other kind of project. Each of these queries or projects are called a ticket. All tickets can be found on the Tickets tab, as a list.
If you're an end-user, you will see the tickets you have submitted (or are involved in). If you're support staff, you'll see all tickets. You may also only see tickets assigned to you, or tickets in your department, depending on how your user has been configured by your manager.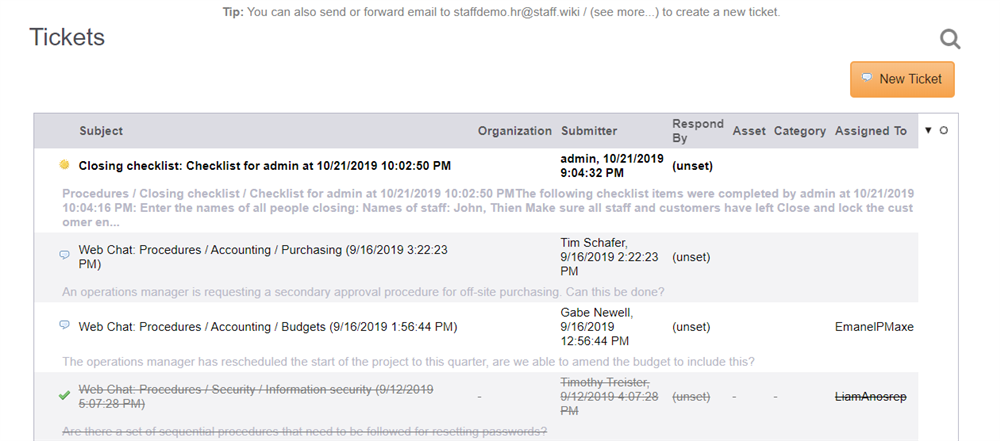 There are three ways to raise a ticket:
Logging in to your Staff.Wiki and clicking "New Ticket"
Sending an email to your Staff.Wiki email address (there will be one for each department)
Using the web chat widget, which you can find in any of the Policies & Procedures pages
Regardless of how the ticket was created, it will always show up in the ticket list on the Tickets tab. From there you can add comments, by clicking on the ticket and entering the comment in the section below the ticket text.
If your email service is properly configured you can also add comments by sending an email with the same subject, or by continuing the conversation in the web chat widget.
There's more to a ticket than a conversation, though. There is also a Task List you can add under at ticket, visible only to support staff. You can also jointly review documents together. You can add forms for your staff to fill out, and even publish tickets to your Wiki for others to see.
We'll go through all these features in this section.

Note: To disable the Questions (webchat) widget in articles, you can go to the Configuration tab (as an admin) and set "Disable Webchat" to Yes.
The Webchat / Ticket System - Staff.Wiki Server, Version 1.6.0.3242
[ Client.Wiki, Professional ]
Up Since 12/30/2020 4:29:45 PM