Access Control
Staff.Wiki allows you to restrict view access to a particular article and its sub-articles, based on the user group that the user is in or quizzes they have passed.

Note: To control who can edit an article, you set approvers on the article or its parent articles. Also, by default only Wiki Managers can suggest edits to articles. To change this to allow all users to suggest edits enable this on the Configuration tab.
These access control features are found in 'Settings' when inserting or updating an existing article.

From the 'Settings' form, quiz and user group requirement restrictions can be set accordingly via drop down menus. Both can be set simultaneously.

Once applied and published, article user group and/or quiz requirements will be in affect.

All Admin and certain users (such as the article's approvers and wiki managers in the user group) may review these applied article settings in Explore mode.
Require User Group
You can use the 'Require User Group' option to restrict article access to only certain user groups. This is useful for when you want to have specific policies and procedures only accessible to a select preset group of personnel.
When a user group in the User Group drop down is selected and published, all users outside of the user group will not see the article link in navigation or in search results, as well as any sub-articles underneath it.
Multiple user groups may be set for an article. Users from any of the set user groups will have access.

User group requirements hides articles & sub-articles entirely from all users not in the user group (with the exception of set article approvers not in the user group).
User groups must be created first before they can be selected from the drop down menus. This is done by Admin level users in Configuration.
Requires Quiz
A qualification process can be instituted to restrict access to policies, procedures, or any articles where it would be deemed necessary.
This feature is useful for walling off areas of the site to only users who have demonstrated qualified knowledge
When a quiz in the Requires Quiz dropdown is set and published, all users who have not completed and passed the required quiz will see a page lock notification with a link to the associated quiz.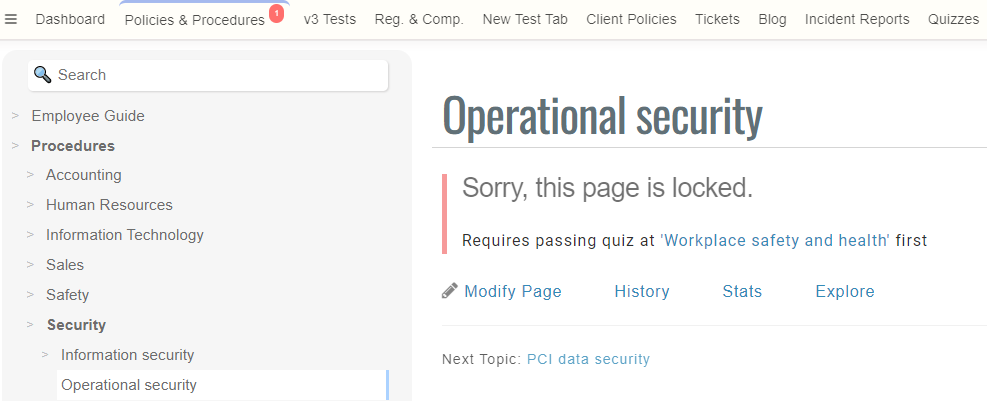 Quiz requirements only hides the content but will still display the article's navigation link.
Quizzes must be created first before they can be selected from the drop down menu. You can learn about creating quizzes here.

Confidential
By setting "Confidential" to Yes, any access to that article will require the user authenticate first. Once they have authenticated (entered in their username and password), the will be granted access to the article for 5 minutes.
This feature is to ensure that only the person logged-in is actually viewing the page, and that another user has not got access to their workstation while they left it unlocked, for example.