Access Control
Staff.Wiki allows you to restrict access to a particular article and its sub-articles, based on the user group that the user is in or quizzes they have passed.
The 'Requires Quiz/Group' tab can be accessed by clicking "Explore" at the bottom of a page, and then clicking the 'Requires Quiz/Group' sub-tab at the bottom of the article's data view.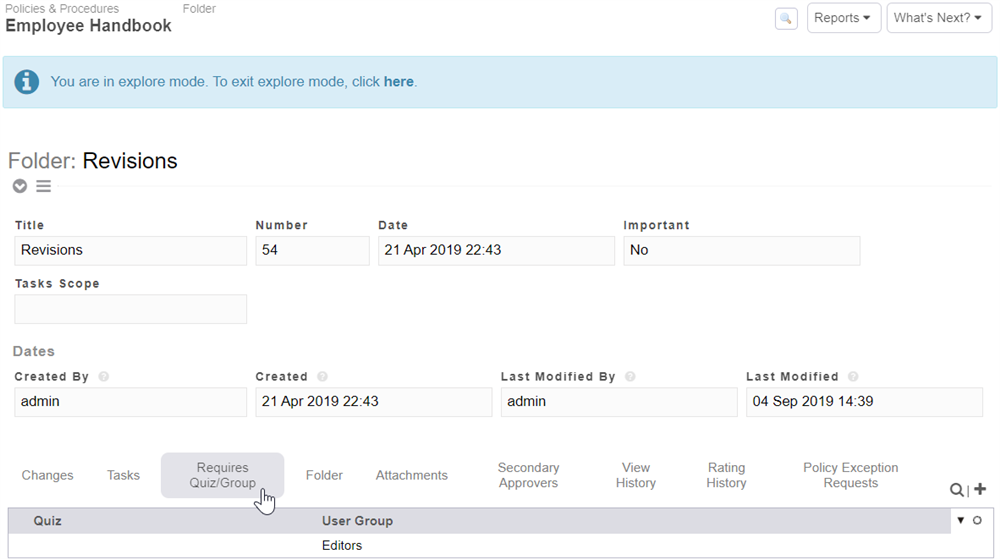 These requirements list criteria that must be met before a user can view that article or any of its sub-articles. This option will take you to the list of requirements. You can define any number of requirements for an article. To add a new requirement, click "+".

Here you can specify:
Quiz Completion
A specific User Group that the user must belong to
If it requires a quiz then it will display a link to the quiz to take, which they must pass in order to view that article.
If it requires a user group that the user does not have, the article will be hidden from that user's view. If they have the URL of the page and try to access it, it will simply tell them they cannot view the article because they have insufficient permissions.
Users who do not meet either of the requirements will be locked out from viewing the article, and it will be hidden from them in the navigation list.
Access Control - Staff.Wiki Server, Version 1.5.5.3205
[ Client.Wiki, Professional ]
Up Since 10/8/2020 11:34:50 PM