Introducing Staff.Wiki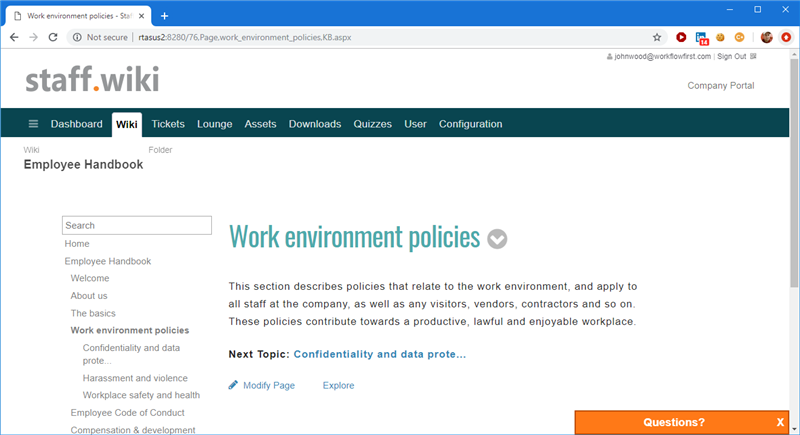 Whether it's policies, procedures, or your organization's objectives - every business or organization needs to provide clear and easily accessible guidance to its staff to help them spend more time working and less time asking questions or making mistakes.
Staff.Wiki provides a place to track policies, procedures and objectives, secure it with approval workflow and version control, and manage it with tasks and assignments.
To complement this central knowledge store, Staff.Wiki lets you create training programs through quizzes, attestation and certification, so your clients and staff can both be certain they're proficient in the skills being taught.
Staff.Wiki also provides a comprehensive ticketing and chat system. With the ticket system your staff can ask questions from experts, and ensure those questions and issues are tended to in a timely manner. And, to help keep that knowledge centralized, it offers a way to easily publish anonymized tickets to the Wiki, to share with all your staff.
Convenience is the key to maintaining a centralized knowledge store, and this is why we make the Wiki accessible through a Google-like search engine. We also offer a real-time chat feature so staff can be connected to experts immediately.
Staff.Wiki makes for a perfect company intranet, a place where you store your company knowledge, employee manuals, policy guides, training programs and a forum for staff to help one another.
To sign up for a trial for Staff.Wiki, you can subscribe at http://Staff.Wiki.

Introducing Staff.Wiki - Staff.Wiki Server, Version 0.1.2978 (beta)
[ Client.Wiki, Professional ]
Up Since 8/21/2019 11:30:01 PM