Quick Feature Tour
Now we'll run through each of the tabs at the top of the screen. We'll be looking at this from the admin perspective, because you'll be logged in as admin the first time you use the portal.

Note: You can find a list of tutorial videos to help you get started, by clicking here.
Policies and Procedures

The Policies and Procedures tab is where you will manage your policies and procedures with wiki feature.
Staff will be able to add, modify and delete policies and procedures on this tab, however they may need approval unless they are marked as a Wiki Manager. Updates can be suggested by anyone through the Modify Page link at the bottom of the page. These changes are then sent to a designated approver for review and approval, and if they approve then the changes will be applied to the actual page that everyone can see.
Anything that goes into this wiki will automatically be searchable through the search box at the top of the contents pane, with a Google-like search engine.

Incident Reporting

The Incident Reporting feature allows for easily accessible incident reporting & management, which can be an important aspect of enforcing the policies and procedures in your organization.
The Incident Reports tab centrally manages formal reports about policy violations, accidents, or other types of events that may occur within in organization. Staff are able to file incident reports from within this tab or from the policy or procedure article related to it. These reports are assigned to designated incident assignees who will then investigate, consult, analyze, and conclude incidents. The incident report workflow tracks and secures all information requested and recorded.

Webchat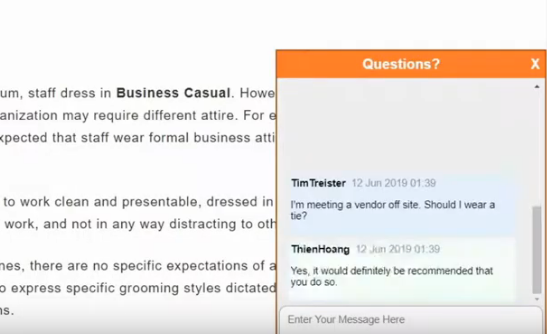 Every policy or procedure page in your wiki will have a webchat widget in the lower right hand corner that is always ready to connect your users with subject matter experts.

Interactive Checklists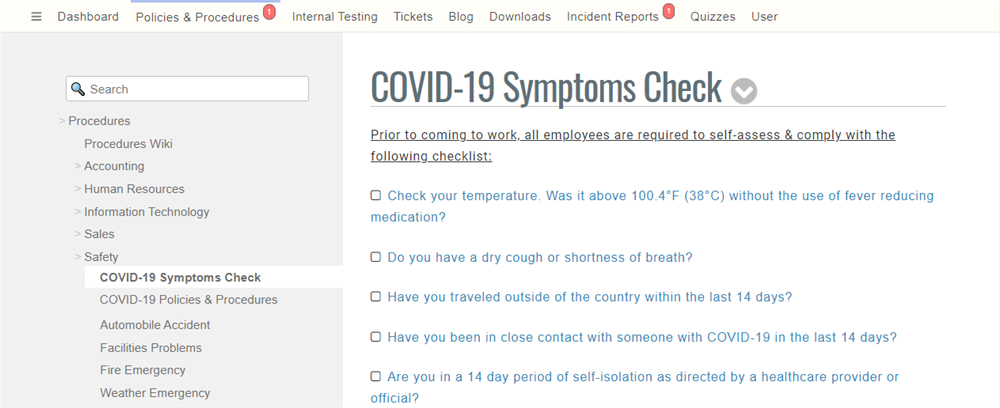 Additionally, checklists can be added to any policies & procedures page. These may be set to be individually or collaboratively worked on. Checklist entries can be assigned to different people, allowing you to create simple automated workflow. They can also be configured to display custom forms, letting you collect information from the user as the checklist is completed.
Checklists can also be configured to become tracked Objectives with key results which can be monitored. Further details may be found here.
Tasks & Project Management

You can add to-do items to policies and procedures to request someone to make a change to the page. You can also create to-do schedules to have staff perform periodic review of policies & procedures, or to set a reminder for when a policy expires.

Quizzes
The Quizzes tab is where you can define assessments to test your staff on their knowledge. For example you can create tests for different policies to ensure your staff understand them fully. You can use the Policies & Procedures tab to provide training material, and then link that with specific quizzes to assess their understanding. Staff.Wiki makes it easy to create whole training courses and then test your staff to see if they understand the information, letting them earn certifications and move to the next level. You can learn more about quizzes here.
Quick Feature Tour - Staff.Wiki Server, Version 1.5.5.3212
[ Client.Wiki, Professional ]
Up Since 10/23/2020 2:58:01 PM